Choice Chiller Air-Cooling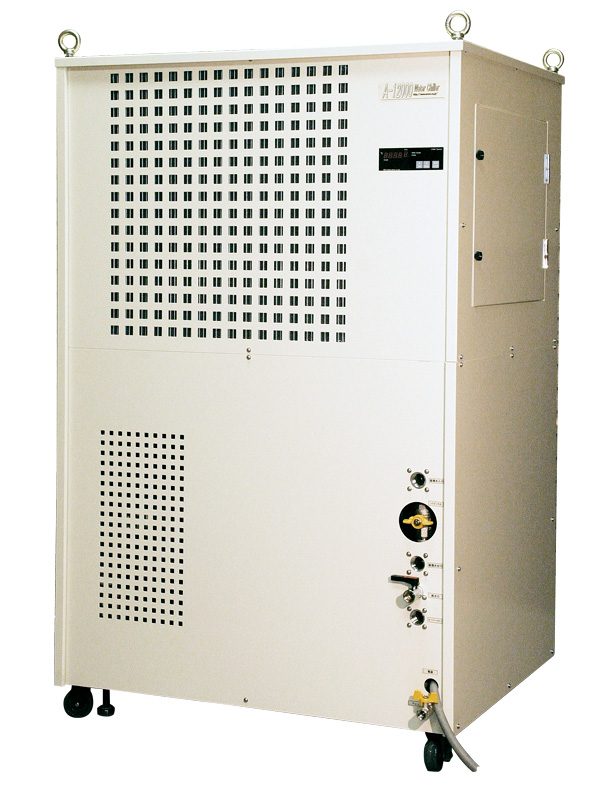 Characteristic
This is an air-cooling, all-in-one type chiller, with various specification options.
Control within ±0.03°C has been realized.
Pumps (their flow rate and lifting) can be customized according to the facilities.
Installation of external alarm, remote operation, communication
Produced in pure-water specification, with all part contacting liquid made of stainless steel
Purity controller is installed.
Function to cool from high temperature (90°C) is installed.
Production for the low temperature specification (-35°C to ordinary temperature)
All-in-one Air-Cooler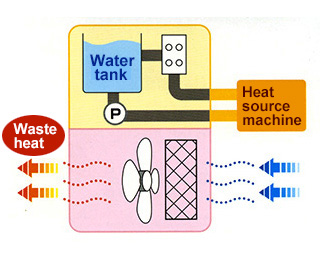 Highly portable and high cost performance
There is waste heat in the room in proportion to capacity.
▼Check Spec▼
Product type
A-4500
A-7000
A-12000
A-18000
A-24000
Temperature control range
18℃~35℃(5℃~35℃)
Ambient temperature
5℃~40℃
Cooling capacity
4500W
(3870kcal)
7000W
(6020kcal)
12000W
(10320kcal)
18000W
(15480kcal)
24000W
(20640kcal)
Heating capacity
800W
(688kcal)
1000W
(860kcal)
1500W
(1290kcal)
2800W
(2408kcal)
3500W
(3010kcal)
Oscillation of the controlled temperature
±0.05℃(Practically ±0.02°C. The system temperature is virtually stable within this range.)
Pump circulation capacity
Maximum lifting
50/56M(50/60Hz)
80/100M(50/60Hz)
Maximum flow rate
35L/min(50/60Hz)
55/70L/min(50/60Hz)
Total length of the piping for the circulating liquid
20A
25A
Outside dimension
W628×D592×H1170
Approx.W630×D584×H1170
Approx.W960×D720×H1510
約W1360×D725×H1800
Weight
Approx.110Kg
Approx.170Kg
Approx.230Kg
Approx.310kg
Approx.380kg
Electrical properties
Power source
3φ AC200V 50/60Hz
Current/th>
Approx.8.0A
Approx.12.0A
Approx.22.0A
Approx.33A
Approx.40A
Apparatus details
Compressor
1500W
scroll type
2250W
scroll type
3750W
scroll type
5625W
scroll type
7500W
scroll type
Condenser
Fin coil forced air-cooling with fans
Cooler
Plate heat exchanger
Pump
Cascade type 400W
Cascade type 750W
Temperature control method
Electronic expansion valve control type
Capacity of the water tank
Approx.20L
Approx.30L
Approx.40L
Approx.60L
Cooling medium
R-407C
Material of piping contacting liquid
BC, plastics (nylon, PVC), SUS304
Temperature controller
Digital temperature indicator controller
Safety equipment
Compressor
Freezer thermal protector
Piping for cooling medium
High-pressure switch
Piping for liquid
Water temperature abnormality alarm
Pump
Overcurrent protection thermal
Water tank
Float switch
External contact
Alarm output OPEN in case of anomaly (non-voltage contact, capacity within 2 A, terminal block)
Remote operation input close while in operation (terminal block)
RS-485 for communication (terminal block)